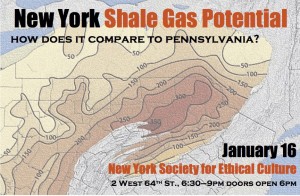 The Sane Energy Project is holding a forum:
What can New Yorkers expect if high-volume hydrofracking is permitted here?
 Analysis of 2700 Pennsylvania gas wells shows that the highest yields are where shale is deepest and thickest. But the Marcellus shale gets thinner and shallower rapidly as it crosses the border into New York, leading to predictions of significantly less production, but with considerable potential damage from frack waste and drill cutting disposal, road damage, compressor stations, and pipelines. 
Moderated by Prof. Anthony Ingraffea.
 Presentations by geologist Brian Brock, systems analyst Jerry Acton, oil and gas experts Chip Northrup and Lou Allstadt.
New York Society for Ethical Culture,
 2 West 64th Street, 6:30–9 pm, Doors open 6:00 pm, Suggested Donation $5-10. 
Share the facebook event.